Many people have done escape rooms, but how many have BUILT an escape room? The process of building a physical escape room is quite extensive; there's conceptualizing the theme, creating the puzzles, building the props, making things as indestructible as possible (this is impossible), beta testing, and then opening the escape room so people can play it. All in all, an extensive, time consuming endeavour. But what if you just like puzzles and having fun and you DON'T work in an escape room? 
Recently, Sherlock's Escapes partnered up with Girls Inc. Limestone to provide our "Build Your Own Escape Room" workshop to 125 young girls over the span of a day. Girls Inc. Limestone has a mission to inspire girls to be strong, smart, and bold. Throughout the course of the event, three workshops that embodied one of these three qualities ran simultaneously so all of the girls could develop new skills. The girls came in from all over the Kingston, Napanee, and Belleville region which made it really special for us to be able to serve more than just our regular Kingston community. 
In the process of the workshop, Sherlock's Escapes staff went over what constitutes an escape room, what kind of puzzles are usually seen in an escape room, and explained a few different types of puzzles. Each group had a set of three boxes with various items within that they could use to create puzzles (e.g. paper clips, pencil top erasers, legos, playing cards, puzzles, pencils, riddles, etc.) and they were tasked with creating three separate puzzles. Sherlock's staff, with the amazing help of volunteer Emilie Wheeler from Empire Life, walked around to answer any questions and help the youth create puzzles and provide locks as needed. At the end of the workshop, each group got to try a different group's puzzles to get to the final prize box (which contained some candy). 
This was a fantastic experience as we got to share our love of puzzles and creativity with young minds. Some of the puzzles that were created were innovative and out of the box. Some puzzles were completely created from scratch; this kind of creativity is amazing to see!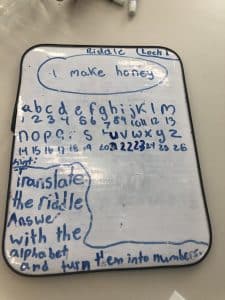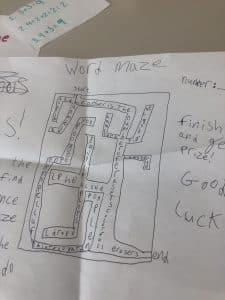 After the workshop, we reached out to Justine Marchand (Girls Ed Program Manager at Girls Inc. Limestone) to get her insight and review of the workshop: 
"In the process of planning for our Smart workshop for the day, reaching out to Sherlock's Escapes was an easy decision! Having people come in to provide an opportunity for our participants to take on the creative problem solving and team work that it takes to not only solve, but create their own escape rooms was very much in line with our goals at Girls Inc. Sherlock's Escapes delivered on all counts and the feedback we received from attendees at the end of the day was very enthusiastic! The Build-Your-Own-Escape Room workshop was mentioned in the feedback we received from both parents and participants as a highlight of the day!"
Part of the thrill that we get as escape room creators and hosts is seeing people have fun with the puzzles we create. Getting to share the puzzle making portion of the escape room experience with youth was an amazing thing. 
Thank you to Girls Inc. Limestone for having us and to St. Lawrence College for hosting us!